Posts for tag: pediatric dentistry
By Killeen Dental Health Center
January 18, 2019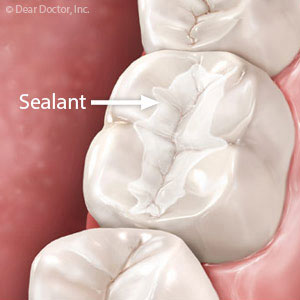 A baby's teeth begin coming in just a few months after birth—first one or two in the front, and then gradually the rest of them over the next couple of years. We often refer to these primary teeth as deciduous—just like trees of the same description that shed their leaves, a child's primary teeth will all be gone by around puberty.
It's easy to think of them as "minor league," while permanent teeth are the real superstars. But although they don't last long, primary teeth play a big role in a person's dental health well into their adult years.
Primary teeth serve two needs for a child: enabling them to eat, speak and smile in the present; but more importantly, helping to guide the developing permanent teeth to erupt properly in the future. Without them, permanent teeth can come in misaligned, affecting dental function and appearance and increasing future treatment costs.
That's why we consider protecting primary teeth from decay a necessity for the sake of future dental health. Decay poses a real threat for children, especially an aggressive form known as early childhood caries (ECC). ECC can quickly decimate primary teeth because of their thinner enamel.
There are ways you can help reduce the chances of ECC in your child's teeth. Don't allow them to drink throughout the day or to go to sleep at night with a bottle or "Sippy" cup filled with milk, formula, or even juice. These liquids can contain sugars and acids that erode enamel and accelerate decay. You should also avoid sharing eating utensils with a baby or even kissing them on the mouth to avoid the transfer of disease-causing bacteria.
And even before teeth appear, start cleaning their gums with a clean, wet cloth right after feeding. After teeth appear, begin brushing and flossing to reduce plaque, the main trigger for tooth decay. And you should also begin regular dental visits no later than their first birthday. Besides teeth cleanings and checkups for decay, your dentist has a number of measures like sealants or topical fluoride to protect at-risk teeth from disease.
Helping primary teeth survive to their full lifespan is an important goal in pediatric dentistry. It's the best strategy for having healthy permanent teeth and a bright dental health future.
If you would like more information on tooth decay in children, please contact us or schedule an appointment for a consultation. You can also learn more about this topic by reading the Dear Doctor magazine article "Do Babies Get Tooth Decay?"
By Killeen Dental Health Center
April 10, 2016
Cavities can happen even before a baby has his first piece of candy. This was the difficult lesson actor David Ramsey of the TV shows Arrow and Dexter learned when his son DJ's teeth were first emerging.
"His first teeth came in weak," Ramsey recalled in a recent interview. "They had brown spots on them and they were brittle." Those brown spots, he said, quickly turned into cavi­ties. How did this happen?
Ramsey said DJ's dentist suspected it had to do with the child's feedings — not what he was being fed but how. DJ was often nursed to sleep, "so there were pools of breast milk that he could go to sleep with in his mouth," Ramsey explained.
While breastfeeding offers an infant many health benefits, problems can occur when the natural sugars in breast milk are left in contact with teeth for long periods.  Sugar feeds decay-causing oral bacteria, and these bacteria in turn release tooth-eroding acids. The softer teeth of a young child are particularly vulnerable to these acids; the end result can be tooth decay.
This condition, technically known as "early child caries," is referred to in laymen's terms as "baby bottle tooth decay." However, it can result from nighttime feedings by bottle or breast. The best way to prevent this problem is to avoid nursing babies to sleep at night once they reach the teething stage; a bottle-fed baby should not be allowed to fall asleep with anything but water in their bottle or "sippy cup."
Here are some other basics of infant dental care that every parent should know:
Wipe your baby's newly emerging teeth with a clean, moist washcloth after feedings.
Brush teeth that have completely grown in with a soft-bristled, child-size toothbrush and a smear of fluoride toothpaste no bigger than a grain of rice.
Start regular dental checkups by the first birthday.
Fortunately, Ramsey reports that his son is doing very well after an extended period of professional dental treatments and parental vigilance.
"It took a number of months, but his teeth are much, much better," he said. "Right now we're still helping him and we're still really on top of the teeth situation."
If you would like more information on dental care for babies and toddlers, please contact us or schedule an appointment for a consultation. You can also learn more by reading the Dear Doctor magazine articles "The Age One Dental Visit" and "Dentistry & Oral Health for Children."
By Killeen Dental Health Center
September 12, 2015
Children's ailments come and go, and thankfully most are relatively minor. Some children, however, have impaired health caused by a more serious, chronic disease. For them, the condition impacts not only their overall well-being, but also their dental health.
This often occurs because the specific healthcare needs of children with these chronic conditions are given greater priority over dental health. Besides the treatment focus, children with special healthcare needs may have physical, mental or behavioral limitations that can make it difficult to keep up with oral hygiene and care.
Children with autism or attention deficit and hyperactivity disorder (ADHD) may have a difficult time practicing (or cooperating with) oral hygiene tasks. Some may not have the physical ability to perform effective brushing and flossing without assistance. In these cases, it's important for parents or caregivers to seek out instruction and training that will optimize their children's hygiene and so reduce the chance of dental disease.
Certain medications for chronic conditions can increase mouth dryness, or they're acidic or sweetened with sugar, any of which can increase the child's risk for tooth decay or periodontal (gum) disease. Parents or caregivers should consult with their physicians about these medications or if they could be administered at mealtime to minimize their effect on the mouth.
Finally, there's the direct effect some conditions may have on a child's teeth and gums. Children with severe gag reflexes due to their condition may not be able to tolerate toothpaste or be able to spit it out completely. Other conditions can give rise to dental defects such as enamel hypoplasia in which not enough enamel develops to adequately protect the teeth.  Such defects call for special dental attention and closer monitoring of teeth and gum health.
The key is to see us and the other healthcare providers for your child's chronic condition as part of an overall team. Sharing information and regarding both dental and general care as part of a comprehensive strategy will help to prevent dental problems from developing and improve their health.
If you would like more information on dental care for children with chronic conditions, please contact us or schedule an appointment for a consultation. You can also learn more about this topic by reading the Dear Doctor magazine article "Managing Tooth Decay in Children with Chronic Diseases."