Posts for tag: bad breath
By Killeen Dental Health Center
December 08, 2020

Most of us have no clue how the ancient holiday tradition of kissing under the mistletoe originated—but it sure doesn't stop us from keeping the tradition alive! Yet although eager to join a certain someone under the hanging twig, you still might hesitate to apply the old smackeroo out of fear your breath isn't as fresh as it should be.
Bad breath has tormented us humans long before we started osculating (kissing) under trimmings of viscum album (the scientific name for mistletoe). Our resulting discomfort has inspired a myriad of remedies, from ancient Egyptian toothpastes containing natron (also used in embalming mummies) to 19th Century American breath mints made of ingredients like cardamom, essence of rose and licorice root.
Today, we're much better at relieving common bad breath because we've uncovered its primary source: bits of food and mucus accompanied by oral bacteria on undisturbed areas the mouth, particularly the tongue. As the debris interacts with the bacteria, it releases chemical compounds called VSCs (volatile sulfur compounds) that emit a classic rotten egg smell.
The key then is to remove the source of these VSCs. You might think that means doing a better job of brushing and flossing, and you're right. But it can involve more.
Keeping your tongue clean. Since the tongue is a prime collecting point for debris and bacteria, it makes sense to keep it clean. That might simply mean brushing its surface when you brush your teeth. You might, however, benefit from using a tongue scraper if you have more stubborn accumulations.
Maintaining your dentures. These and other dental appliances can accumulate food debris that if not removed can cause a "stink." You should clean dentures daily using a denture cleaner or mild antibacterial soap and then rinse them off thoroughly. It also helps to take them out at bedtime.
Seeking dental care. Another source of bad breath could be tooth decay or gum disease, or even older dental work in need of repair. Treating these and other conditions (like an oral yeast infection) not only improves your dental health, it could do wonders for your breath.
There are also other sources of foul breath unrelated to the mouth—and some can be serious diseases like diabetes, cancer or lung infections. If your chronic bad breath doesn't respond to your hygiene efforts, it's a good idea to get checked medically.
Now as to holiday traditions, we can't help you maneuver your prospective sweetheart under the mistletoe with you—you're on your own, pal (or gal). But by following these tips for sound oral care, we're sure you'll have the "fresh breath" confidence to follow through from there.
If you would like more information about eliminating chronic bad breath, please contact us or schedule a consultation. To learn more, read the Dear Doctor magazine article "Bad Breath."
By Killeen Dental Health Center
February 02, 2020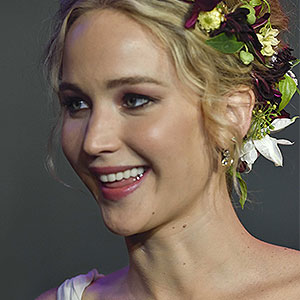 Hollywood superstar Jennifer Lawrence is a highly paid actress, Oscar winner, successful producer and…merry prankster. She's the latter, at least with co-star Liam Hemsworth: It seems Lawrence deliberately ate tuna fish, garlic or other malodorous foods right before their kissing scenes while filming The Hunger Games.
It was all in good fun, of course—and her punked co-star seemed to take it in good humor. In most situations, though, our mouth breath isn't something we take lightly. It can definitely be an unpleasant experience being on the receiving end of halitosis (bad breath). And when we're worried about our own breath, it can cause us to be timid and self-conscious around others.
So, here's what you can do if you're concerned about bad breath (unless you're trying to prank your co-star!).
Brush and floss daily. Bad breath often stems from leftover food particles that form a film on teeth called dental plaque. Add in bacteria, which thrive in plaque, and you have the makings for smelly breath. Thorough brushing and flossing can clear away plaque and the potential breath smell. You should also clean your dentures daily if you wear them to avoid similar breath issues.
Scrape your tongue. Some people can build up a bacterial coating on the back surface of the tongue. This coating may then emit volatile sulfur compounds (VSCs) that give breath that distinct rotten egg smell. You can remove this coating by brushing the tongue surface with your toothbrush or using a tongue scraper (we can show you how).
See your dentist. Some cases of chronic bad breath could be related to oral problems like tooth decay, gum disease or broken dental work. Treating these could help curb your bad breath, as can removing the third molars (wisdom teeth) that are prone to trapped food debris. It's also possible for bad breath to be a symptom of a systemic condition like diabetes that may require medical treatment.
Quit smoking. Tobacco can leave your breath smelly all on its own. But a smoking habit could also dry your mouth, creating the optimum conditions for bacteria to multiply. Besides increasing your disease risk, this can also contribute to chronic bad breath. Better breath is just one of the many benefits of quitting the habit.
We didn't mention mouthrinses, mints or other popular ways to freshen breath. While these can help out in a pinch, they may cover up the real causes of halitosis. Following the above suggestions, especially dental visits to uncover and treat dental problems, could solve your breath problem for good.
If you would like more information about ways to treat bad breath, please contact us or schedule an appointment. To learn more, read the Dear Doctor magazine article "Bad Breath: More Than Just Embarrassing."
By Killeen Dental Health Center
August 11, 2018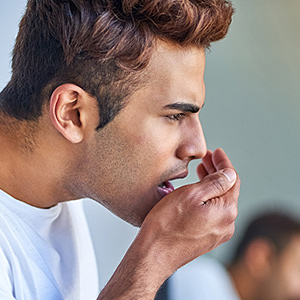 Unlike the months on either side, August isn't known for major holidays. But it does have one cause for celebration: National Fresh Breath Day! True, this observance will probably never achieve big-time recognition. Yet everyone would agree that fresh breath is something to appreciate! Unfortunately, bad breath is a persistent problem for many people. The first step in treating it is to identify the cause. Here are 5 common causes of bad breath:
1. Poor oral hygiene. Certain types of oral bacteria cause bad breath, and the mouth provides a perfect environment for them—especially when dental plaque and food debris is not well cleansed. So to keep your breath fresh, maintain a diligent oral hygiene routine. This includes brushing your teeth twice a day with fluoride toothpaste and flossing at least once a day. For an extra-clean mouth, use a tongue scraper—a plastic tool about the size of a toothbrush that's available in most drug stores. This will remove bacteria and food debris from your tongue for extra freshness.
2. Oral diseases. Bad odors in your mouth may also be caused by infections—which is what tooth decay and gum disease actually are. Sometimes old fillings wear out, allowing bacteria to re-infect a tooth that was once treated for decay. Other signs of these common oral diseases include tooth pain and bleeding or puffy gums. If you notice any of these, don't ignore it—make a dental appointment today!
3. Diet. Smelly foods will give you smelly breath; it's that simple. And the odors may linger after you have eaten them. When onion, garlic and other pungent foods are digested, their odor-producing substances enter your bloodstream and proceed to your lungs—which can affect how your breath smells. If you suspect your dietary habits are causing bad breath, try eliminating certain foods (at least temporarily) and see if that helps.
4. Dry mouth. Saliva helps cleanse your mouth, so reduced saliva flow can lead to bad breath. This accounts for "morning breath," which is caused when the mouth dries out during sleep (especially if you are a mouth-breather). However, some people don't produce enough saliva throughout the day. Sometimes it's just that they don't drink enough water. But a very common cause of chronic dry mouth is regular use of medications, both prescription and over-the-counter. If you notice that medication is drying out your mouth, let your doctor know. And stay hydrated!
5. Smoking. Given that smoking increases your risk for many serious diseases, including oral cancer, the fact that it can lead to bad breath seems almost trivial. Still, it's worth noting that smoking causes mouth odor both directly and indirectly by reducing the flow of saliva and promoting gum disease. In fact, tobacco in all forms is a hazard to your health.
If you'd like more information on bad breath, please contact us or schedule an appointment for a consultation. You can learn more in the Dear Doctor magazine articles "Warning Signs of Periodontal (Gum) Disease" and "Dry Mouth."