Posts for: December, 2020
By Killeen Dental Health Center
December 20, 2020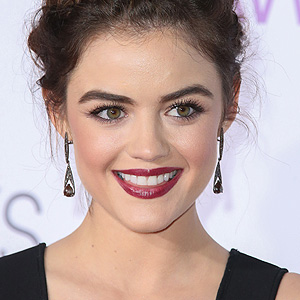 Is a "teeth crush" a thing? According to a recent confession by Lucy Hale, it is. Hale, who has played Aria Montgomery for seven seasons on the hit TV show Pretty Little Liars, admitted her fascination with other people's smiles to Kelly Clarkson during a recent episode of the latter's talk show (Clarkson seems to share her obsession).
Among Hale's favorite "grills": rappers Cardi B and Post Malone, Julia Roberts, Drake and Madonna. Although some of their smiles aren't picture-perfect, Hale admires how the person makes it work for them: "I love when you embrace what makes you quirky."
So, how can you make your smile more attractive, but uniquely you? Here are a few ways to gain a smile that other people just might "crush" over.
Keep it clean. Actually, one of the best things you can do to maintain an attractive smile is to brush and floss daily to remove bacterial plaque. Consistent oral hygiene offers a "twofer": It removes the plaque that can dull your teeth, and it lowers your risk of dental disease that could also foul up your smile. In addition to your daily oral hygiene routine at home, professional teeth cleanings are necessary to get at those hard-to-reach spots you miss with your toothbrush and floss and to remove tartar (calculus) that requires the use of special tools.
Brighten things up. Even with dedicated hygiene, teeth may still yellow from staining and aging. But teeth-whitening techniques can put the dazzle back in your smile. In just one visit to the dental office, it's possible to lighten teeth by up to ten shades for a difference you can see right away. It's also possible to do teeth whitening at home over several weeks using custom-made trays that fit over your teeth and safe whitening solutions that we provide.
Hide tooth flaws. Chipped, stained or slightly gapped teeth can detract from your smile. But bonding or dental veneers, thin layers of porcelain custom-made for your teeth, mask those unsightly blemishes. Minimally invasive, these techniques can turn a lackluster smile into one that gets noticed.
Straighten out your smile. Although the main goal for orthodontically straightening teeth is to improve dental health and function, it can also give you a more attractive smile. And even if you're well past your teen years, it's not too late: As long as you're reasonably healthy, you can straighten a crooked smile with braces or clear aligners at any age.
Sometimes a simple technique or procedure can work wonders, but perhaps your smile could benefit more from a full makeover. If this is your situation, talk to us about a more comprehensive smile renovation.  Treatments like dental implants for missing teeth combined with various tooth replacement options, crown lengthening for gummy smiles or tooth extractions to help orthodontics can be combined to completely transform your smile.
There's no need to put up with a smile that's less than you want it to be. Whether a simple cosmetic procedure or a multi-specialty makeover, you can have a smile that puts the "crush" in "teeth crush."
If you would like more information about cosmetic measures for enhancing your smile, please contact us or schedule a consultation. To learn more, read the Dear Doctor magazine articles "Teeth Whitening" and "Porcelain Veneers."
By Killeen Dental Health Center
December 08, 2020

Most of us have no clue how the ancient holiday tradition of kissing under the mistletoe originated—but it sure doesn't stop us from keeping the tradition alive! Yet although eager to join a certain someone under the hanging twig, you still might hesitate to apply the old smackeroo out of fear your breath isn't as fresh as it should be.
Bad breath has tormented us humans long before we started osculating (kissing) under trimmings of viscum album (the scientific name for mistletoe). Our resulting discomfort has inspired a myriad of remedies, from ancient Egyptian toothpastes containing natron (also used in embalming mummies) to 19th Century American breath mints made of ingredients like cardamom, essence of rose and licorice root.
Today, we're much better at relieving common bad breath because we've uncovered its primary source: bits of food and mucus accompanied by oral bacteria on undisturbed areas the mouth, particularly the tongue. As the debris interacts with the bacteria, it releases chemical compounds called VSCs (volatile sulfur compounds) that emit a classic rotten egg smell.
The key then is to remove the source of these VSCs. You might think that means doing a better job of brushing and flossing, and you're right. But it can involve more.
Keeping your tongue clean. Since the tongue is a prime collecting point for debris and bacteria, it makes sense to keep it clean. That might simply mean brushing its surface when you brush your teeth. You might, however, benefit from using a tongue scraper if you have more stubborn accumulations.
Maintaining your dentures. These and other dental appliances can accumulate food debris that if not removed can cause a "stink." You should clean dentures daily using a denture cleaner or mild antibacterial soap and then rinse them off thoroughly. It also helps to take them out at bedtime.
Seeking dental care. Another source of bad breath could be tooth decay or gum disease, or even older dental work in need of repair. Treating these and other conditions (like an oral yeast infection) not only improves your dental health, it could do wonders for your breath.
There are also other sources of foul breath unrelated to the mouth—and some can be serious diseases like diabetes, cancer or lung infections. If your chronic bad breath doesn't respond to your hygiene efforts, it's a good idea to get checked medically.
Now as to holiday traditions, we can't help you maneuver your prospective sweetheart under the mistletoe with you—you're on your own, pal (or gal). But by following these tips for sound oral care, we're sure you'll have the "fresh breath" confidence to follow through from there.
If you would like more information about eliminating chronic bad breath, please contact us or schedule a consultation. To learn more, read the Dear Doctor magazine article "Bad Breath."